Jitesh Sharma burst onto the scene for Punjab Kings in IPL 2022 with his aggressive batting style.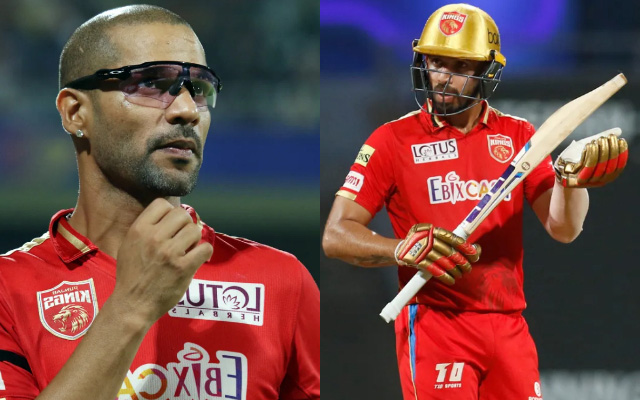 Punjab Kings' youngster Jitesh Sharma has revealed about his stint in IPL 2022 and the eye-opening advice he received from veteran Indian opener Shikhar Dhawan. Jitesh made his IPL debut in this year's edition and played some eye-catching cameos for the Punjab Kings. He scored an impressive 234 runs in 12 outings, striking the ball at over 160. The wicketkeeper-batter impressed with his intent on the crease as he bought in Punjab's fearless batting approach.
The youngster was in a conversation with Dr. Yash Kashikar on his 'Say Yash to Sports' show and spoke about the guidance and advice he received from Punjab teammate Shikhar Dhawan. The southpaw who has been one of the stalwarts of IPL and is one of the most consistent performers in the tournament's history advised the youngster to stop focusing on the bowlers and rather focus on the ball and react to that specific ball.
"I interacted a lot with Shikhar Bhai. He completely changed my mindset as a youngster. When I asked him how should I play against a specific bowler. He said that there is nothing like a bowler, there is just a ball. And batting is all about reacting to that specific ball, that reaction will only come when you are peaceful inside and in your zone. And that zone will come only when you have the right mindset. That mindset will come only when you prepare, eat and think well, so literally, he taught me everything," The Punjab player said.
'I love every bit of your batting' – Sikhar Dhawan's heartwarming message for Jitesh Sharma
Dhawan's absence from the current Indian limited-overs setup has been a surprise for many as he had a productive season in IPL 2022 with 460 runs to his name at an average of 35.08. Jitesh revealed a heartwarming moment with the senior pro when he was gifted a bat by the southpaw.
"Every day he used to talk with me for about 30 minutes. Also, he gifted me his bat and wrote on it that I love every bit of your batting, Jitesh," the youngster added.